Fresh Poultry...taste the difference!
Daily deliveries to maintain the freshest selection
All-natural, no hormones, no preservatives
birds free to roam-reduces stress
birds given free access to food and water
Consistency you can count on
Better quality poultry that everyone can afford

Featuring Super-Trimmed Fresh Boneless Skinless Chicken Breast Filets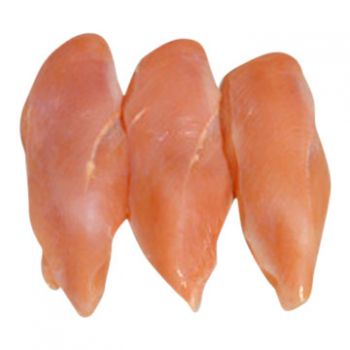 available 4oz or 6oz
absolutely no waste
tender and juicy
heart healthy, low points

quick and easy meal

CHICKEN

WHOLE CHICKEN

2 1/2 lb Fryer
3 1/4 lb Fryer
4-5 lb Roaster
5-8 lb Stewer
1 1/2 - 2 lb Cornish Hen
Capon (Seasonal)
BREAST

Split Breast
Boneless Skinless Filet Supertrim
Breast Tenders
LEG

Whole Legs
Drumsticks
Bone-In Thighs
Boneless Skinless Thighs
WING

Whole Wings : Small Medium or Jumbo
Buffalo Cut Wings : Small Medium or Jumbo
Flippers
Drumettes
GIBLETS

Livers
Gizzards
Hearts
Backs
Necks

TURKEY

Whole Turkey
Bone-In Turkey Breast
Boneless Turkey Breast
Turkey Tenders
Other Turkey Parts (Seasonal)
DUCK

Whole Duck Frozen
Whole Duck Fresh (Seasonal)
Duck Legs Frozen
Duck Boneless Breast (Seasonal)

GROUND POULTRY

Made Fresh on Premises throughout the Day
Ground Turkey Thigh
Ground Turkey Breast
Ground Chicken Thigh
Ground Chicken Breast

SAUSAGE

Available Flavors Vary Day to Day
Chicken Dark Bulk Chorizo
Chicken White Mild Italian
Chicken Dark Breakfast Link
Turkey Dark Breakfast Link
Turkey Dark Mild Italian
Turkey Dark Hot Italian
Other Specialty Flavors
---
Any questions about our cuts? Looking for something you do not see listed here? Please contact us.